Industrial applications
Constant heat sealing
Efficient and safe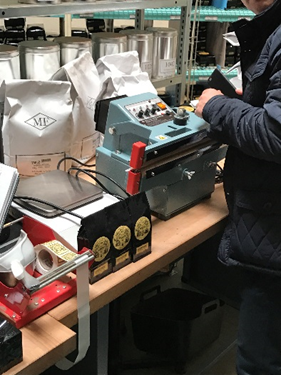 A technique used to close bags with a wide, tight seal.
Sealing widths are generally 10 or 15 mm.
Most often used for complex materials such as aluminium/PE or Kraft/PE with thicknesses of up to 2×500 microns.
The operating principle consists in permanently heating the sealing jaws by means of a resistor and thus accurately controlling their temperature for quality sealing.
A preheating time of about 15 minutes is required to reach the set temperature.
The jaws in contact with the material to be sealed are not systematically Teflon-treated because the materials used (aluminium, paper or kraft…) are not necessarily adherent to the sealing jaw.
However, to achieve good quality welding, the sealing jaw pressure must be at a very high level. It is therefore necessary to obtain a larger surface contact between the sealing jaw and the bag for sealing.
The heating temperature on heat sealers is adjustable up to 200°C to embrace even the most complex applications.
It is even possible to reach 250°C on our continuous sealing machines.
A determined cooling time is always necessary to guarantee good seal quality.
This sealing technique is used on different types of equipment: our stationary pedal / table top machines or floor-installed machines, our portable sealing pliers or our continuous sealing machines.
Generally speaking, it is mainly used when impulse sealing does not give satisfactory results or for applications with high throughput rates or significant material thicknesses.
Advantages:
Wide, waterproof and very tough sealing.
Allows sealing of all kinds of complex materials
Allows sealing significant thicknesses
Allows precise control of the heating temperature
Recommended for mass production