Food applications
Heat shrink film packaging of foods
Meticulous presentation and film brightness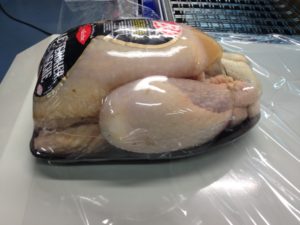 Technology to make packages from heat-shrinkable or non-shrinkable film of required dosage.
The operating mode is simple: the product is inserted between two sides of the dosed film and pushed by the operator into the sealing frame.
Depending on the type of machine, the sealing arm is lowered manually or automatically and simultaneously welds and cuts the "L" shaped film forming a hermetically sealed product wrapping.
Depending on the purpose of the application, the product can exit into a shrink tunnel to expose the film to a flow of hot air to shrink and laminate the film on the product.
This filming technique allows a clean display of the product while ensuring its protection because depending on the quality of the film, tear resistance can be considerable.
This type of packaging can also be used to package products in batches of different sizes.
Applications are wide ranging especially in the food industry (cuts of poultry, pies, gingerbread, squash, watermelons, chocolate, etc.).
Advantages:
Allows production directly from a roll
Easy format change from a single roll
Pack ejection belt (depending on models)
Flexibility of use
Fast throughput